Park Rules
We strive to provide you with a safe and enjoyable experience. Please be aware of these park rules during your visit. Thank you for help keeping our park safe.
Right of Admission Reserved
Management reserves the right to refuse admission to those they feel are unsuitable for the Park's facilities.

Admission
Only persons who paid the required fees will be allowed to enter and utilize the facilities in the park. Re-admission is not guaranteed based on park capacity numbers. Please do not enter the park with radios, external music, pets, weapons, knives or any glass object.

Operating Hours
Operating hours are subject to weather conditions and may change without prior notice. For the latest up to date hours, please visit our Facebook page.

Behaviour
Please no running or horse playing. Aggressive or abusive behaviour and profanity are not permitted. Threatening behaviour, verbal abuse or violence will not be permitted anywhere in the Park. Please no diving. Underwater breath holding activities are not permitted.

Seating
Chairs and shade are available on a first come, first serve basis.

Security Cameras
Security cameras are in use. By entering the facility, each guest grants Dolphin Beach Entertainment the right to videotape or photograph him/her on park property without payment or consideration.

Smoking
Smoking is not permitted inside the park.

Alcohol
Alcohol is not permitted in the park and management reserves the right to confiscate it and ask the persons to leave who are under the influence of it.
Lost/Stolen Items
Dolphin Beach Entertainment is not responsible for lost, stolen, or damaged articles. Lost and found is located at the ticket office.

Accessibility
Dolphin Beach Entertainment is committed to providing a comfortable experience for all our guests. The seating areas around pools are grass; however, the remainder of the park has paved pathways. Service animals are welcome at Dolphin Beach Entertainment. Service animals are limited to dogs that have been individually trained to do work or perform tasks for the benefit of an individual with a disability. Please be aware that service animals are NOT permitted on any attraction at Dolphin Beach Entertainment. Currently the attractions at Dolphin Beach Entertainment is not suitable for persons with physical disabilities.

Swim Masks and Goggles
Swim goggles are permitted. Please make sure they are properly worn.

Guest Responsibility
There are inherent risks in the participation of any ride, device or attraction. Guests, by participation, accept the risks inherent in such participation of which the ordinary prudent person is aware. Guests have a duty to exercise good judgement and act in a responsible manner while using the ride, device or attraction and to obey all oral and written warnings, or both, prior to or during participation, or both. Guests have a duty to not participate in or on any ride, device or attraction when under the influence of drugs or alcohol. Guests have a duty to properly use all ride or device safety equipment provided.
Own Risk
All rides and activities are used at the guests own risk. Dolphin Beach Entertainment accepts no responsibility for personal injury. Please be careful!

Parking
Ample FREE parking is available adjacent to the park. The parking area is shared with all visitors to the beach and surrounding restaurants. Vehicles parked at guests own risk.

Attire
Dolphin Beach Entertainment is a family experience; therefore, we require that the appropriate swim attire be worn throughout your visit. No visible undergarments, transparent attire, thongs or G-strings are allowed. For the health & safety of all our guests, diaper aged children are required to wear waterproof protectors to participate in water activities. Swim wear with buckles, rivets, or any sharp objects are not permitted on body slides. Check each ride's entry sign for specific restrictions.

Life Vests
Safety is our No. 1 concern, therefore, all guests under 1.2m are recommended to wear life vests while participating in water activities. Dolphin Beach Entertainment provides United States Coast Guard (USCG) Type III life vests in a variety of sizes at a minimal rental fee. Floatation devices such as noodles, in-suit floatation devices, personal swim rings/floats and boogie boards are not permitted.

Cameras
Personal cameras are not permitted on water slides unless it is securely attached to the body. No selfie-sticks of any kind is permitted on slides or inside swimming pools.

Ride Safety and Requirements
Safety is our highest priority, and we meet or exceed all safety guidelines set forth by state agencies, industry organizations, as well as our ride and slide manufacturers. Each ride has a posted safety warning sign at the entrance, which may be different for each attraction. Ride restrictions do apply. Please read all signs and listen to all park attendant instructions before riding. Persons not following ride rules are subject to removal from the park.

Unaccompanied Minors
We recommend that children under the age of 13years be accompanied by a parent or guardian older that 14years of age. Parents / Guardians are responsible for their children who choose to exit the park unattended.

Refund Policy
Tickets are non-transferable and non-refundable. Some rides and activities may close without prior notice due to inclement weather conditions or due to power outages or safety and mechanical reasons. To ensure our guests' comfort and safety, Dolphin Beach Entertainment park capacity is limited. Admission into the park may be suspended during the day due to periods of high attendance.

Food and Beverage Policy
Guests are welcome to bring their own food and beverages into the park. We do have snack vending machines available that sells coffee, bottled water, canned soda drinks, sweets and chips. Coolers are permitted but is subjected to a search at the entrance of the park. The following items are not permitted: Any alcoholic drinks, glass containers of any kind, open fires or gas braai's.

Security Procedures
For the safety of all guests, security procedures at Dolphin Beach Entertainment may result in slight delays while entering the park. As a part of this process all bags, backpacks, and packages may be subject to inspection according to management's discretion prior to entering the park.
As a reminder, the following items are not permitted to be brought into the park for the safety of our guests: weapons, glass bottles, and any hazardous items or materials.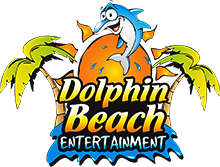 Office & Whatsapp Number:
066 247 2700

Manager:
Dawie Pitzer
071 411 5106
Managing Director:
Stephanus Ferreira
082 4454014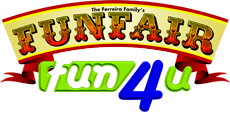 Fun4U Funfair

Our travelling amusement park which service the Northern, Southern and Eastern Cape of South Africa. With twelve different rides, the funfair is sure to attract both young and old – making Fun4u excellent in helping schools with fundraisers. The funfair is also available for church fundraisers, festivals and shows.

Visit our Website

Using this site means you accept its
terms
| Copyright © 2022 Dolphin Beach, Jeffreys Bay, South Africa
| website by